Paul Georges Lefebvre, born on 2 September 1876 at 1 rue de l'Alma, Le Havre, was the son of Lore Elise Lefebvre, lady's maid, 32 years old, born at Gueures (Seine-Maritime), and an unknown father. His maternal grandparents were Nicolas Lefebvre and Joséphine Lheureux.
In 1912 he was reported as living at 25 Orchard Place, Southampton but as will be seen below this is at odds with his recovery record.
He was a saloon steward aboard the Titanic and died in the sinking on 15 April 1912. His body was recovered by the Mackay-Bennett and he was buried on 6 May 1912 at Fairview Lawn Cemetery, Halifax, Nova Scotia.
The record of his recovery is:
NO. 211. – MALE. – ESTIMATED AGE, 34. FAIR – HAIR AND MOUSTACHE.
CLOTHING – Blue suit and saloon Steward's uniform.
EFFECTS – Pipe; pouch; cigarette case; comb; razor; silver hunter watch; 35s. 7d. in purse; discharge 'A' book.
FIRST SALOON STEWARD, No. 99.
NAME – GEO. LEFEVRE, 17 Springfield Rd., West Ham.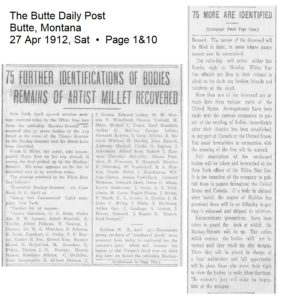 Titanic encyclopedia
Find a Grave
Book: Guide to the Crew of the Titanic