Peter was born in 1918 in Cambridge but his birth was registered in Canterbury (Canterbury 2a 1458 Jun 1918) Kent the son of Frederick Charles and Lilian Edith LEFEVRE nee Langford. Frederick Charles LEFEVRE was mayor of Canterbury but that is a story for another time. Lilian died when Peter was less than a year old in the flu outbreak of 1919 (Canterbury 2a 1677 Mar 1919). His father married Winifred M Blundell in 1921 (Canterbury 2a 2089 Jun 1921) and so he had a woman in his life.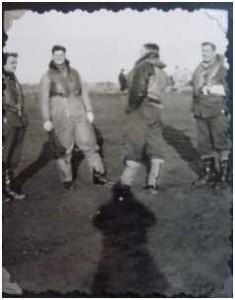 In my research so far Peter's early life was unremarkable being educated at Tonbridge School and subsequently at Pembroke College, Cambridge. He joined the RAF on a short service commission in March 1938 and was posted to 38 (some research says 46) Squadron in December 1938. He was involved in the first battle of that squadron in October 1939 off the north cost of Britain. His squadron was posted to Northern Norway in June 1940 and then later in 1940 he returned to Britain where he fought in the Battle of Britain. On 3rd September 1940 he was shot down in combat over Chatham and 'baled out' with minor injuries. In 1941 the squadron was posted to the Mediterranean and in May 1941 the squadron was serving on Malta and re-designated as 126 Squadron. On 10th October 1941 he was posted to command 185 Squadron, this post only lasted for a week and he then returned to command 126 Squadron. For his actions in the North Sea, the Middle East and the Mediterranean he was awarded the DFC on 12th December 1941[1].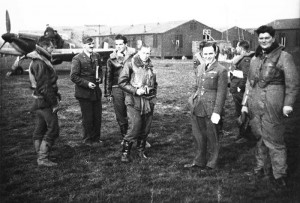 He returned to the UK in December 1941 and served with 52 Squadron. Early in 1943 he was posted as Flight Commander of 129 Squadron and then in April 1943 he was given command of 161 Squadron. On 16th April 1943 he was shot down by 'flak' whilst escorting bombers to Brest. He was found by the French resistance and smuggled into Spain and then to Gibraltar and returned to the UK on 13th July 1943. He re-joined 616 Squadron on 11th August but shortly afterwards was posted to command 266 Squadron.
On 6th February 1944 whilst leading an attack on anti-aircraft guns at l'Aber-Vrac'h, Brittany he was shot down by 'flak' and baled-out but unfortunately was too low for his parachute to deploy (200 feet) and he was recorded as missing presumed killed, his body never being recovered from the sea.
Peter was a confirmed fighter Ace with 10 confirmed 'kills' [2,3]. He is remembered on the Runnymede Memorial on panel 200 [4].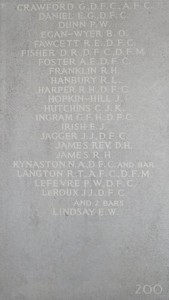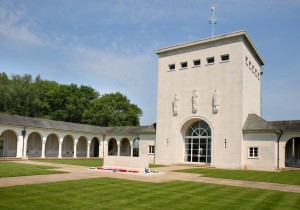 Colin Spencer
Member 1005
http://le-fever.org/famous-lefevers/peter-william-lefevre/
---
[1] SUPPLEMENT TO THE LONDON GAZETTE, 12 DECEMBER, 1941:
Acting Squadron Leader Peter William LEFEVRE (40719), No. 126 Squadron. This officer has shown the utmost devotion to duty over a long period of operational flying, in which he has destroyed several enemy aircraft. He carried out over 250 hours flying on convoy patrols over the North Sea as well as participating in other operational missions. Squadron Leader Lefevre has participated in operations in the Middle East, and in July, 1941, he attacked an Italian E boat which was forced to surrender.
[2] http://en.wikipedia.org/wiki/List_of_World_War_II_aces_from_the_United_Kingdom#L
[3] Aces High: A Tribute to the Most Notable Fighter Pilots of the British and Commonwealth Forces in WWII  By Christopher Shores, Clive Williams
[4] Photograph courtesy of Stephen Daglish member 1110