On FindMyPast I found a new transcriptions recordset 'Results for Essex Marriages And Banns 1537-1935' and in this set of transcriptions I found an entry for Isaac Lefever.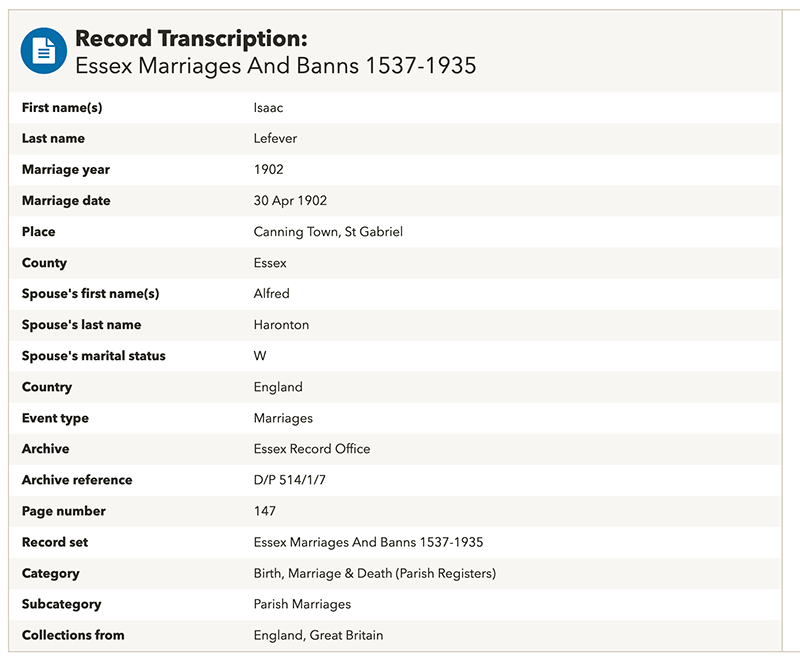 I searched on FreeBMD, Ancestry and FreeReg looking for other copies of this marriage without success. Homosexuality, let alone a homosexual marriage in a church in 1902, was a criminal offence so I knew that there was something wrong with this transcription. More searching after discussion with a friend resulted in me finding this parish register entry on Ancestry

As can be seen the transcription on FindMyPast could be considered a work of fiction.
Isaac is Isabel
Lefever is Lefevre
Haronton is Hawnton
Date of the marriage is 30th March 1902 not 30th April 1902
The church is St Mary of Eton in Hackney Wick not St Gabriel in Canning Town
Unfortunately, there is no image to go with the transcription on FindMyPast. There is an image behind the paywall of Essex Register Office but I am not prepared to pay for this just to check out the reason for the inaccurate transcription, I am more than happy with the correct Parish register Entry from Ancestry.
In light of this problem there may be others in this recordset so my advice is to use these transcriptions with appropriate double checking.